HISTORY

THE PAST
In 2001, Eileen Johnson became Director of Little Missionary Day Nursery, or "Little Mish," as it is affectionately called. This 122 year-old institution, once caring for 200 children a day, was reduced to a
population of 8 children, with only a Twos and a Threes class.
Only one floor of this generously-donated building was occupied, the rest being rented out to generate income. The finances were at an all-time low, and the school's reputation had dimmed.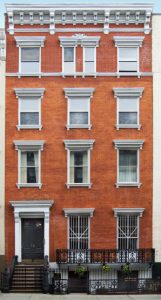 The Board of Directors placed its trust in Eileen to bring her philosophy of Emotional Education to the school. In the intervening years, the school has become not only successful, but in great demand, and an important part of the community. Parents know Little Mish as a place where their child will feel safe and nurtured, and will grow in emotional and cognitive strength.
THE PRESENT
In 2014, the school expanded, to return the whole building to its original use as a school. Currently there are 95 children enrolled, with two Twos programs, two Threes programs, and a Pre-K program, After School, and Summer School.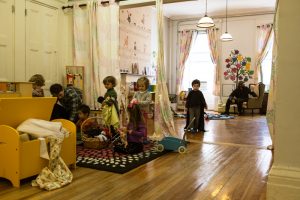 In September 2017, Sara Curry Day School opened with Eileen's vision for an elementary school where children learn self-reflective and analytical habits, using a project-based curriculum, and Emotional Education.  The first group of children were Kindergarten and 1st graders.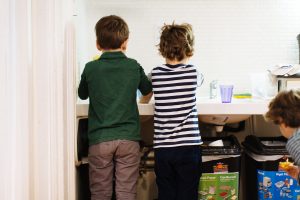 The Sara Curry Day School will occupy the Third Floor of the building during its first year, and Kindergarten/First Grade will be the first stage of the school's progress, beginning with enrollment in 2017-2018.
THE FUTURE
In 2018-2019, the school will add Second Grade. By 2020, the school will need to locate another space to satisfy the demand it will undoubtedly experience.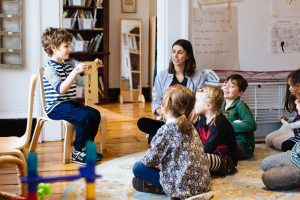 The school is currently exploring options for a new space, and is starting an Expansion Fund in order to finance this endeavor. We are in serious discussion about potentially adding a middle school to our plans for the future.
Eileen is the author of The Children's Bill of Emotional Rights, published by Jason Aronson, 2012 and she is the co-author of: What Happens When You Die: Three and Four-Year-Olds Talking about Death published by Jason Aronson 2011.
Her second book documenting her work at Little Mish and outlining the methods used in the school is entitled: Emotional Education and was published in 2017
Our Board members are:  Jenny Langsam, Kristin Vincent, Julie Dugas, Jeannie Gaffigan, Margo Moulton
We collaborate with the Board of LMDN: Herman Hewitt, Dan Wood, Annika Colston, Katerina Maxianova